Description
Ekologisk Rå Svensk Honung

Honung är mat som bin skapar, det kommer framförallt från nektar från blommor.
Lugnets Bigårdar är ett litet biodlingsföretag som ligger i Sörmland. På Lugnets Bigårdar strävar de alltid efter att hantera bin, honung och vax på ett så varsamt och naturligt sätt som möjligt. Det innebär bland annat att bina får bygga en del av sitt eget vax själva, precis som de vill ha det och inte som biodlaren vill.
Honungen värms aldrig upp under processen, detta för att alla "goda" ämnen som enzymer och andra nyttigheter i honungen skall bevaras i så stor utsträckning som möjligt. Det vanliga inom honungsproduktion är annars att man värmer upp honungen i flera omgångar.
Honungen från Lugnets Bigårdar är lokalbestämd, dvs att honungen kommer från kupor som finns på den ort som det står på etiketten. Produktionen är ekologisk och ansluten till KRAV. Att honung är ekologisk innebär bland annat att det inte är tillåtet att vingklippa bidrottningen för att förhindra att bina svärmar och att inga kemiska bekämpningsmedel får förekomma vid eller i närheten av bikuporna.
Honung är nyttigt. Den innehåller bland annat vitaminer, mineraler och antioxidanter, har lägre GI-värde än socker samt smakar dessutom sötare än socker. Honung har använts av människor i tusentals år, både som sötningsmedel och inom naturmedicin.
Tips: Ont i halsen? Ta en tesked med 50/50 pressad citron och honung.
Innehåll: 100% ekologisk svensk honung. Förvara gärna Honung mörkt och svalt, den blir dock aldrig gammal. Honungen från Lugnets Bigårdar är lokalbestämd, dvs att honungen kommer från kupor som finns på den ort som står på etiketten.
Tillverkare: Honung producerad av Lugnets Bigårdar. Gården drivs av Niklas Nyström.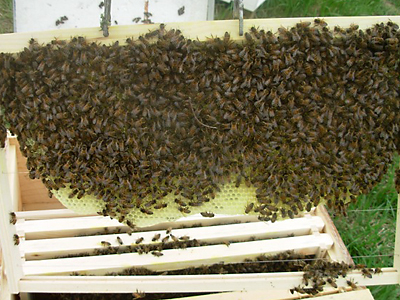 Det är mycket viktigt att biprodukter kommer från biodlare som har respekt för miljön, respekt för bikupan och binas språk. Många biodlare har idag problem med att bina sticker iväg då vi förstör miljö/natur med besprutning och GMO.
Det är dags att vakna och ta hand om våra bin!
Vad kan vi göra? Jo, alltid köpa honung som är obehandlad. Gärna från biodlare i närheten om du hittar någon som känns bra som ej behandlar sin honung och som tar hand om bina på deras villkor. Aldrig köpa honung från Kina. Plantera blommor och växter som bina gillar i din trägård eller på din lilla plätt. (de älskar lila och blå blommor) Välja ekologisk odlad mat i största möjligaste mån.
"If the bee disappeared from the surface of the earth, man would have no more than four years of life left". Albert Einstein.